Meet the Tour Guides that make your tour a memorable and fantastic experience!
A tour guide can make or break your vacation-having a knowledgeable, fun, passionate and experienced tour guide is the key to delivering a great holiday.
No two groups of travelers are the same and that's why, working from years of experience our tour guides have the unique ability to deliver a product that is tailor made to each and every group. Varying group activities and additional stops to cater for individual needs is key.
Our tour guides have been leading tours for an average 10 years worldwide and are experts in leading  USA Southwest Tours.  Having hiked the trails, rafted the canyons, partied the hot spots, they really are true area specialists.
Let us introduce some of our team.
Rachel Urban
Senior Tour Guide/Owner Bindlestiff Tours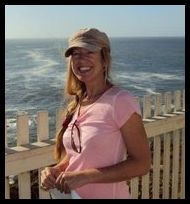 Rachel began her tour guiding career in 1994 when she began leading tours in Greece with Thomas Cook. Her true passion for adventure travel soon evolved and she continued to work and travel the world ever since. Working as a tour leader throughout the USA Southwest and the Canadian Rockies for the past 7 years, Rachel is an avid outdoor enthusiast; her favorite pursuits are hiking, mountain bike riding and white water rafting.
"As a small company we are able to create a unique experience for clients, really tailoring each trip to different group dynamics. We are able to keep client costs to a minimum and continue to provide unparalleled value for money.  We love what we do and every day is a new adventure!"
When Rachel is not on the road leading adventure tours in the Southwest USA she can be found relaxing in Bali Indonesia, surfing, doing yoga and rejuvenating.
Khriss Urban
Senior Tour Guide/Owner Bindlestiff Tours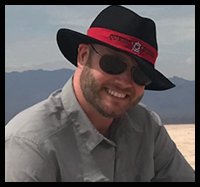 Khriss has been leading small group adventure tours since 1999 across the  USA and Canada. Patient and enthusiastic, Khriss enjoys showing others the awe inspiring natural world as much as he loves discovering its wonders for himself. Khriss is an expert in leading  Southwest USA tours. A keen adventurer and historian, Khriss is a great storyteller loves spending evenings around the campfire or dinner table sharing traveling tales and making new friends.
When Khriss is not leading tours he is globetrotting, seeking out new adventures around the world!
"It's all part of the adventure-the people, the places, the lifestyle! I get to meet interesting people from all over the world and show them one of the most unique and exciting regions on earth!"
Robert Graff
Vice President Of Sales And Marketing Bindlestiff Tours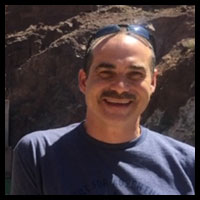 With over 20 years in hospitality, Robert's passion for languages and travel led him all the way to Las Vegas and into tourism. From his early days of life guarding in Greece, to teaching kindergarten, Robert found his true passion in tourism marketing, he became a tourism ambassador and interpreter welcoming foreign nationals and leading private tours to the national parks. Robert enjoys submerging himself in foreign cultures and traveling off the beaten path. Robert enjoys hiking, volleyball, yoga, and scuba diving in his free time.
Joel Clark
Senior Tour Guide Bindlestiff Tours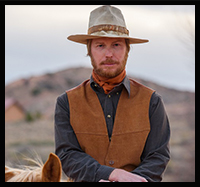 "There's an old saying here in the desert," I once heard Joel say. "What you see in the desert is a reflection of your own soul." Never without his old battered hat, given to him by his grandfather, Joel Clark has an addiction to the wide open spaces of the West.
He has hiked the Pacific Crest Trail, the Continental Divide Trail, the Appalachian Trail, and charted his own cross-country trek across the Mojave Desert totaling some 8,000 miles. Joel is an experienced guide, leading adventure tours and horse riding expeditions through the canyon lands of Southern Utah for over 6 years. When he gets out his guitar around the campfire, bring a handkerchief because you're going to hear some soulful old cowboy songs.
Joe Olguin 
Senior Tour Guide Bindlestiff Tours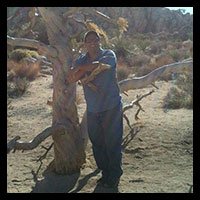 Joe has been guiding tour since 1995 across the USA.  Before becoming part of the Bindlestiff Tours team, Joe was a camp director for over 15 years teaching inner city children all about the great outdoors and showing them all the wonders of the natural world. Joe love's the beauty of the open roads and the adventures they take him on. He has a passion to share his extensive knowledge and colorful stories of the American Southwest with the people he meets on our tours. When Joe is not on the road, he enjoys beach volleyball, hiking, mountain biking and spending time with his friends in family.
Rene Sollberger
Tour Guide Bindlestiff Tours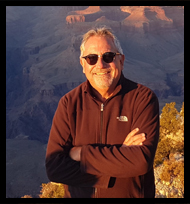 Rene is happy when the horizon is wide. Born and raised in beautiful but tiny Switzerland, he started exploring the world early. No destination was too exotic, and no journey was too arduous. He crisscrossed Southern Europe, Africa, India, Asia and the United States by car, bus and train. In San Francisco he got his first job as tour guide, in 1989. He immediately fell in love with the majestic National Parks and the awesome vistas of the Southwest. Today Las Vegas is his home.
Rene's degree is in Physics and Mathematics. He worked as a high school teacher and later as a journalist for major Swiss media. His job then allowed him to travel extensively, and, better yet, he even got paid to do it.
Rene loves to meet new people, explore new places, and share the magnificence of their geography, culture and history. That is what brought him back to the travel industry in 2016 when he moved to San Francisco. There is a saying in German that he has taken as his life motto, which could be translated as: Sharing joy only doubles it.
Apart from traveling, Rene – who is fluent in three and a half languages – enjoys hiking, photography, swimming, skiing, driving, cooking and eating. In his time off, he still works as journalist and writer. In 2019 he published his first book, a biography of a Swiss diplomat who served as the President of the International Committee of the Red Cross (ICRC).
Joseph Spaid
Tour Guide Bindlestiff Tours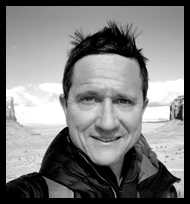 Joseph Spaid is a multiple award-winning film director who's traveled to 71 countries, and completed four circumnavigations of planet Earth. Although raised in San Diego, he was "made" in New York City where he had a dream job in film, tv, and advertising before trading-up to the job of a lifetime as a travel guide. When not guiding in The States, Spaid can be found leading round-the-world travel, working as a surfing guide in Senegal, or completing the post-production of his latest film in Mexico. Other passions include still photography, writing, storytelling, hiking, camping, cycling, boating, scuba diving, meteorology, oceanography, geology, ornithology, nomadic culture, gardening, dogs, and raising college money for the kids of CED Orphanage in India. Joseph's motto is; 'Be brave. Be kind, Go.'
Chelsea Nielsen
Tour Guide Bindlestiff Tours
Chelsea graduated from Humboldt State University with a degree in Recreation Administration and has devoted her career to helping people get outdoors. She has spent more than ten years working on public lands, and she is proud to say that she volunteered for Americorps, helping to better the country she loves.
She is an experienced guide and has also worked as a park ranger in the Mojave Desert, as well as helped manage two federal recreation grants for the State of Nevada.  "Anything that keeps me outdoors!" she says.   In her spare time, she enjoys riding her dirtbike, playing her ukulele, and journaling.
Julia Davis
Senior Tour Guide Bindlestiff Tours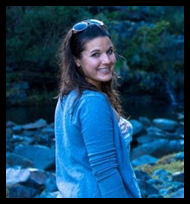 Growing up in landlocked, relatively flat and quiet Minnesota, young Julia was travel starved and eager to see the world. As soon as she was old enough to accept a job as a tour guide, she hit the road and fell in love. No matter how many times she visits some of America's most celebrated destinations, she always finds a new reason to appreciate it. In the past decade, she's taken exploration very seriously. She is an experienced solo traveler. In fact, of the 33 countries she's checked out, half were experienced on her own. Although these trips have left her feeling empowered and confident, she's convinced there's no greater reward in life than sharing these experiences with others. Now, after nearly a decade as a professional galavanter, she considers every corner of this beautiful country home and looks forward to sharing it with you!
Tim Wenzel
Tour Guide Bindlestiff Tours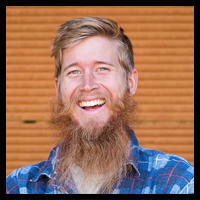 Growing up happily in rural Wisconsin, Tim had no idea where life would take him or what he wanted to do once he 'grew up,' as they say. Having spent a year studying abroad during college, Tim has been addicted to traveling.  After a few years of work solely to fund international backpacking trips, Tim began his guiding career, which he has done for most of his adult life, bringing him all over the continental USA, Canada, Hawaii, and Alaska. In addition to showing North America to guests, Tim has worked in the mountains of Colorado, guided in Yellowstone, and has worked a few seasons at the US Antarctic research base, McMurdo Station. Though he has many outdoor hobbies, his outdoor passions are hiking and canoeing which have led him to hike 2 routes of the Camino de Santiago, hike across the country of Israel, and to paddle the entire Mississippi River.
Bradley Manhke
Tour Guide Bindlestiff Tours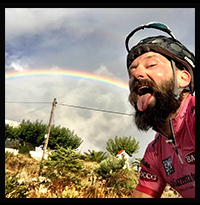 Born and reared in Milwaukee Wisconsin, Bradley's sense for adventure and travel was instilled at a young age.  Summertime vacations included annual epic road trips to Missouri in a Chevet with a pop up camper! After graduating college, Bradley attempted cubicle life.  That ended quickly once he realized work visas were available in New Zealand.  After working for three years in New Zealand as a concierge, Bradley returned to his homeland and discovered he could make a living as an active tour guide.   This ten year journey took Bradley to many parts of the globe from Iceland to Crete, New Mexico to New Zealand,and many places in between where he enjoyed the ride from behind bars, handlebars that is.
"I can show you short cuts on the Strade Bianche in Tuscany and know Crete like it was my hometown, but I can't find my mother's house without GPS."
When not working, Bradley finds his sanity on a bicycle, fishing, cooking, doing yoga, pottery, arts & crafts, and generally exploring and learning more about the world that surrounds him.
"I have found out there ain't no surer way to find out whether you like people or hate them then to travel with them."  Mark Twain
Mike Brown
Senior Tour Guide Bindlestiff Tours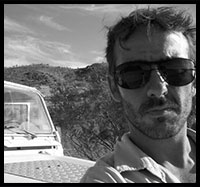 Mike is originally from Baltimore Maryland, but he is no "city-slicker"! At the age of 15 he first experienced the American Southwest at Philmont Scout Ranch in Raton, New Mexico. He fell in love with the beauty and grandeur of the region and vowed to come back one day.
Mike has excelled in many professions including fashion design, DJ'ing, and massage therapy. In early 2009 he left the world of 9-5 jobs behind to "find himself" and became a global nomad, living, working, and visiting over 50 countries since. His first guiding experience was at one of the Seven Wonders of the World, Petra, Jordan, where he volunteered with local Bedouins. From there he went on to guide and escort tours in places like Spain, Norway, the Canary Islands and Caribbean.
Mike is convinced that traveling can bring about positive life changing experiences in everyone, just ask about his!! This is why he is guiding tours today.
When not guiding, he is chasing the summer weather around the globe in search his next great adventure.
Chris Mercer
Tour Guide Bindlestiff Tours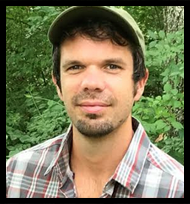 Originally a Nashville Tennessee native, Chris found his love for nature at an early age growing up exploring the woodlands, lakes, rivers, and trails of the Appalachian Mountains. Craving other lands to discover he set his sights to the west and was spellbound by the vastness of the Rocky Mountains and the seemingly endless, other worldly landscapes of the Southwest.
As a naive and inexperienced 19 year old, Chris and his older brother took their first big road trip out west. Despite the bumbling mishaps of their youth and lessons learned the hard way, Chris caught a fever. Road Trip Fever! And the only prescription was more road trips. The freedom of the road, the connection with nature, the excitement of the unexpected, and the adventures around every corner fueled him on over the coming years to extensively explore every state in the U.S., across Canada, and over 15 other countries.
After graduating from MTSU, Chris began working as many as three jobs at once to fund his desire for the great wide open. Eventually stumbling upon a way to earn a living doing what he loves he began to lead tours throughout the U.S. and Canada. Guiding gives him the opportunity  to share his experience, excitement, and awe of the beauty of the West, and to meet plenty of amazing people while doing so.
In his spare time Chris enjoys, hiking, backpacking, mountain biking, trail running, kayaking, paddleboarding, and any other outdoor recreational sport he can get his hands, or feet on. And he is a Nashville native remember, so of course he plays guitar!
Nicole Stratman
Tour Guide Bindlestiff Tours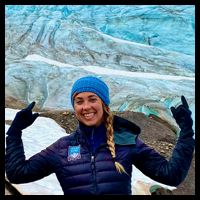 When Nicole was formally introduced to the world of guiding, she finally knew she had found her tribe. After getting her first guiding glimpse taking Rascal Flatts sweepstakes winners on backstage tours, she left her home of Nashville to work in New Zealand & Australia and travel independently. When she returned home with a new world perspective, she had the pleasure of guiding international clientele around North America for the next 5 years. It brings her great joy to educate guests about geology, history and to find intriguing new spots along the journey. When she's not guiding, you can find her living on the road full-time with her partner in their Dodge RAM Promaster, volunteering, hosting the Tour Guide Tales podcast, supporting zero waste shops & sustainability initiatives, and occasionally jumping out of planes with whoever cares to take the plunge.
Chris Patrick
Tour Guide Bindlestiff Tours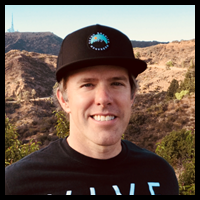 Travel and comedy flow strong in this one. Before finding a job that would pay him to travel, Chris worked in Alaska as a salmon processor, was a recreational skier in Colorado & Wyoming, and was a free agent "manny" by drifting from one home to another caring for kids in exchange for everything in the fridge. In addition, he has been around the world a couple times to see as much as he can, however he always comes back to the Southwest. He loves meeting new people and aims to entertain while educating his guests.
When not on the road, Chris loves time with his niece, running to a gate to catch a plane, creating YouTube videos and training to be a cast member for SNL.
Jon Slone
Tour Guide Bindlestiff Tours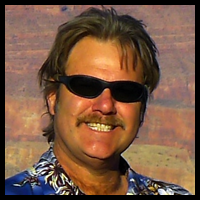 Having grown up in Southern CA Jon has always wanted to go outside, play and stay there. After graduating from college he began his guiding career in 1985 as a whitewater raft guide in WA and later guided rivers commercially in AK, UT, ID, and CO. Jon's passion for travel and national parks led him to 5 seasons as a Tour Guide helping travelers to experience the highlights of America, Alaska, and Western Canada. Winters were spent as a Professional Ski Patroller at first, then later backpack vagabonding through foreign countries. Jon's service as a US Forest Service Wilderness Ranger in Idaho and CO was his favorite downtime from always being on the go. Jon has enjoyed recent years guiding vehicle-based backcountry tours again in Yellowstone winter, spring and fall in Canyonlands and Arches national parks, and summers near his home in the colorful San Juan mountains of Colorado.
Jillianne Palmer
Tour Guide Bindlestiff Tours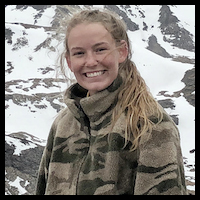 Jillianne caught the adventure bug early. Shortly after her 17th birthday, she packed up her car and set out on her first solo road trip with her eyes set on the majestic mountains of the West. Since then, she has completed seven cross-country road trips on her own, seen all 50 states, hopped across 12 different countries, and visited 35 national parks. She met her partner while volunteering for Americorp in Colorado. They discovered a shared passion for adventure.  Jillianne's passion for helping others discover the many wonders of the outdoor world is apparent through her guiding career. Glacial tour guiding in Alaska, ski instructing in Colorado, river guiding in Nevada, and more. Jillianne's interests include anything outdoors, with some favorites being backcountry skiing, rock climbing, whitewater rafting, fly-fishing, and birdwatching. She is excited to take you on an unforgettable journey filled with exciting new experiences!
Brad "Indy" Holmes
Tour Guide Bindlestiff Tours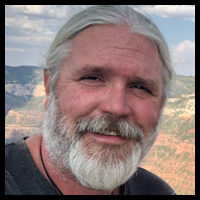 Growing up in the Adirondack region of upstate New York, Indy was embedded with the love of the outdoors and desire for exploration. Now married for over 30 years with two adult children out doing their own thing for nearly 5 years, he decided to change life plans and travel the country to look, learn, explore, and enjoy life on a new level. And level up he did! Indy has been able to hike all over the US including tackling the Appalachian Trail, take on class 5 whitewater rapids, and throws in marathons when he's able to. So far, he's completed marathons in 30 different states. Even with all these adventures, his desire to explore and journey to new places is continuously growing. Adding guests to his ventures only heightens the travel experience where he can share in his knowledge and love of the outdoors.
Jack Warren
Tour Guide Bindlestiff Tours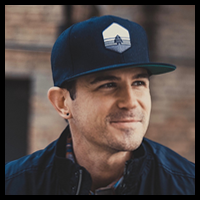 "Growing up in Chicago, Jack wasn't originally exposed to the great outdoors, but after his first Outward Bound course – white water rafting the Salmon River, his life changed forever.  For most of his adult life, Jack has worked to travel and further his understanding of this beautiful planet of ours. He has ventured to 50 countries and volunteered with aid organizations all over the world.
After starting his own company and selling his business in 2014, Jack embarked on a road trip across the USA and found his passion as a travel guide.  For the past 7 years, Jack has had the great fortune of showing people from all over the world this great country – our national parks and diverse cities.  All told, he's driven 250,000 miles, crossed the country 30 times, and been to all 50 states on personal journeys and leading trips.  When he's not showing passengers around the US, he loves cruising around America with his partner, Nicole, in their RV. Jack also loves jumping out of planes and throwing friends/ family out of them too. You can't beat the views at 14,000 feet."
Becky Stone
Reservations Manager and part time Tour Guide Bindlestiff Tours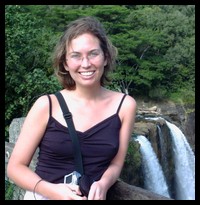 Becky's love for travel began at an early age. From the UK, Becky's family used to take her on annual holidays all over Europe and later on further afield to Africa, Thailand and the USA. Passionate about anything travel Becky enjoys anything outdoors and spends her free time sailing, water skiing and kayaking.  Becky's love for adventure travel led her to us and she is now our full time Reservations Manager and part time tour leader.  An adventure with Becky will be fun, educational and awe-inspiring as she will take you to all the best scenic photo spots away from the crowds. Her favorite Southwest USA destination is Monument Valley.