Meet the Tour Guides that make your tour a memorable and fantastic experience!
A tour guide can make or break your vacation-having a knowledgeable, fun, passionate and experienced tour guide is the key to delivering a great holiday.
No two groups of travelers are the same and that's why, working from years of experience our tour guides have the unique ability to deliver a product that is tailor made to each and every group. Varying group activities and additional stops to cater for individual needs is key.
Our tour guides have been leading tours for an average 10 years worldwide and are experts in leading  USA Southwest Tours.  Having hiked the trails, rafted the canyons, partied the hot spots, they really are true area specialists.
Let us introduce some of our team.
Rachel Urban
Owner / Senior Tour Guide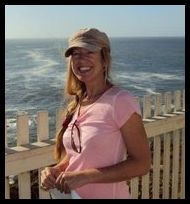 Rachel began her tour guiding career in 1994 when she began leading tours in Greece with Thomas Cook. Her true passion for adventure travel soon evolved and she continued to work and travel the world ever since. Working as a tour guide throughout the USA Southwest and the Canadian Rockies for the past 15 years, Rachel is an avid outdoor enthusiast; her favorite pursuits are hiking, mountain bike riding and white water rafting.
"As a small company we are able to create a unique experience for clients, really tailoring each trip to different group dynamics. We are able to keep client costs to a minimum and continue to provide unparalleled value for money.  We love what we do and every day is a new adventure!"
When Rachel is not on the road leading adventure tours in the Southwest USA she can be found relaxing in Byron Bay, surfing, doing yoga and rejuvenating.
Khriss Urban
Owner / Senior Tour Guide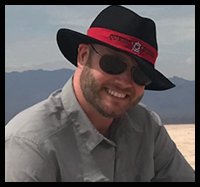 Khriss has been leading small group adventure tours since 1999 across the  USA and Canada. Patient and enthusiastic, Khriss enjoys showing others the awe inspiring natural world as much as he loves discovering its wonders for himself. Khriss is an expert in leading  Southwest USA tours. A keen adventurer and historian, Khriss is a great storyteller loves spending evenings around the campfire or dinner table sharing traveling tales and making new friends. When Khriss is not leading tours he is globetrotting, seeking out new adventures around the world!
"It's all part of the adventure-the people, the places, the lifestyle! I get to meet interesting people from all over the world and show them one of the most unique and exciting regions on earth!"
Melissa Chiella
Director of Operations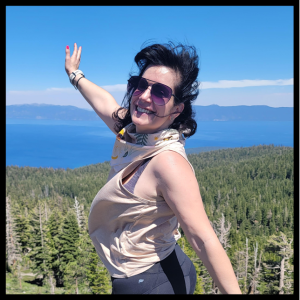 Melissa hails from the great state of New York. Growing up in Long Island & NYC she quickly developed an edge & pursued a Corporate Legal Career – thinking this was the path for her. However, in 2010 after an 8 year stint in law she left the big apple in search of different dreams after a solo backpacking trip to Puerto Rico that shifted her direction in life. Melissa fell in love with the Adventure Travel sector leading her to find a passion driven career and exploring the globe – trekking the jungles of Africa to see the Gorillas to walking hundreds of miles across Spain on a pilgrimage to search for the tastiest ceviche in South America. She has never stopped pushing her limits since. For 12 years she was a front and back-country guide expanding in over 25 of America's National Parks and was also lead trainer and General Manager for an outdoor travel brand in California. Alaska's rising peaks, crisp mountain air and creamy blue glacial pools specifically stole her heart, where she exclusively guided wilderness backpacking and packaneering for 5 years. She is a freelance travel & adventure writer tying in all the things she has learned and loved over the years. Melissa now calls the West Coast home, splitting her time between beautiful Lake Tahoe and the bright lights of Las Vegas. With decades of travel experience, hiking adventures, cultural exposure, and professional guiding – she looks forward to sharing her colorful experiences with guests and her staff. Melissa is a certified Wilderness First Responder (WFR), California Naturalist, Swift Water 1 Rescue, Avalanche 2 Rescue (AIARE) and Lifeguard.
" I can't chase the American dream trading life for Money" – author unknown 
Tony Caldwell
Assistant Operations Manager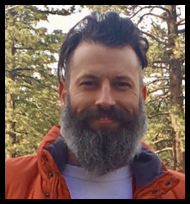 Tony is a Las Vegas native, born and raised, and outdoor enthusiast. Familiar with all that Nevada's scenic beauty has to offer, he spent much of his youth wakeboarding Lake Mead (the largest man-made lake in the US), as well as surfing our neighboring beaches of the California coast. He's also an avid snowboarder, splitting his time between the majestic mountains of Big Bear, Brian Head, and Vegas's own Lee Canyon. When he's not boarding, you can usually find him pluckin' away on his guitar.
Mario Enriquez
Reservations and Customer Service Manager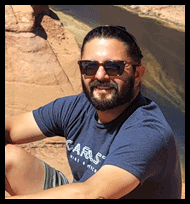 Originally from New Mexico, Mario developed his love of the outdoors from an early age while spending summers camping, hiking and fishing throughout the state.  While studying Chemistry at the University of New Mexico, Mario often spent weekends and free-time exploring the mountains of northern New Mexico and southern Colorado while camping and snowboarding with friends in Santa Fe, Taos, Red River, Durango and Wolf Creek. After college, Mario moved to Chicago where his career in Food & Beverage Hospitality led him to management positions throughout the mid-west, Kentucky, Florida and Arizona building successful bar programs and lists for multiple restaurant and bar concepts.  Experience on a national level led him to follow his lifelong interest in wine by accepting a Wine Director position at a beautiful, 6,000 acre ranch & resort on the Continental Divide in Tabernash, Colorado.  Here, he was able to log 60+ days snowboarding each year while building award-worthy beverage programs for the resort.  During the beautiful Colorado summers, Mario was an avid camper, hiker, fisher and explorer of the region's surrounding National Parks and remote areas.  Mario looks forward to sharing the next beautiful sunset, amazing mountain setting and snow adventure while meeting people from all over the world!
Ari Brundrett
Reservations and Customer Service Assistant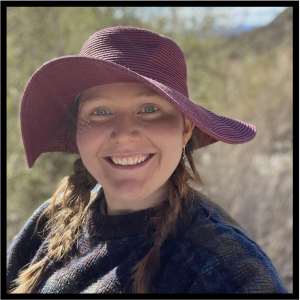 Ari's love for the outdoors is deeply rooted from growing up in Massachusetts and exploring the wonders of New England. While in college at UMASS-Lowell, Ari was a student leader for the Outdoor Adventure Program leading hiking, backpacking, kayaking, and rock climbing trips for the college and community. She moved to Virginia where she worked as an assistant for the William & Mary Tribe Adventure Program, and then to West Virginia to work at Snowshoe Mountain Resort. Ari's favorite memory is leading a college trip to the Everglades in Florida, where she taught kayaking and camping skills while paddling between islands. She loves to share her passion for the outdoors through biking, hiking, rock climbing and kayaking, and is excited about what Las Vegas has to offer!
Joel Clark
Senior Tour Guide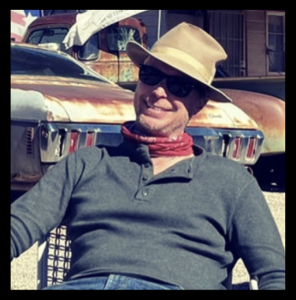 There's an old saying here in the desert," I once heard Joel say. "What you see in the desert
is a reflection of your own soul." Never without his old battered hat, given to him by his
grandfather, Joel Clark has a passion for the wide-open spaces of the West.
He has thru-hiked the Pacific Crest Trail, the Continental Divide Trail, the Appalachian Trail,
the Arizona Trail, and charted his own cross-country trek across the Mojave Desert, a total
hike of approximately 10,000 miles. Joel is an experienced guide with four years leading
horse rides in Southern Utah, and ten years leading adventure tours throughout the West.
Despite it all, Joel doesn't think of himself as a hiker per se. "Walking is just a nice pace to
see the world," he says. Off duty you'll find him on the tennis court, playing ping pong,
volunteering at his church, and reading Western history alongside a cup of coffee.
Joe Olguin
Senior Tour Guide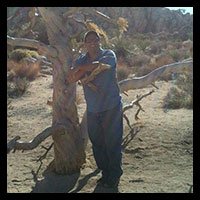 Joe has been guiding tour since 1995 across the USA.  Before becoming part of the Bindlestiff Tours team, Joe was a camp director for over 15 years teaching inner city children all about the great outdoors and showing them all the wonders of the natural world. Joe love's the beauty of the open roads and the adventures they take him on. He has a passion to share his extensive knowledge and colorful stories of the American Southwest with the people he meets on our tours. When Joe is not on the road, he enjoys beach volleyball, hiking, mountain biking and spending time with his friends in family.
Joseph Spaid
Senior Tour Guide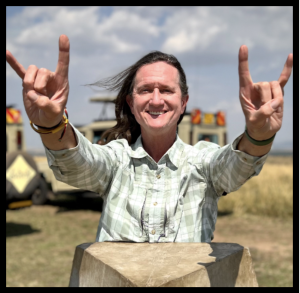 Joseph Spaid is a multiple award-winning film director who's traveled to 76 countries. Although raised in San Diego, he was "made" in New York City where he had a dream job in film, tv, and advertising before trading-up to the job of a lifetime as a travel guide. When not guiding in The States, Spaid can be found leading round-the-world travel, working as a surfing guide in Senegal, or in the studio working on his latest film. Other passions include still photography, writing, storytelling, hiking, camping, cycling, boating, birds, scuba diving, meteorology, oceanography, geology, nomadic culture, gardening, dogs, and raising college money for the kids of CED Orphanage in India. Joseph's motto is; 'Be brave. Be kind, Go.'
Bradley Mahnke
Senior Tour Guide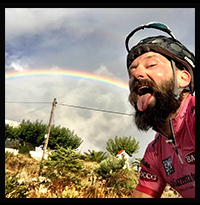 Born and reared in Milwaukee Wisconsin, Bradley's sense for adventure and travel was instilled at a young age.  Summertime vacations included annual epic road trips to Missouri in a Chevet with a pop up camper! After graduating college, Bradley attempted cubicle life.  That ended quickly once he realized work visas were available in New Zealand.  After working for three years in New Zealand as a concierge, Bradley returned to his homeland and discovered he could make a living as an active tour guide.   This ten year journey took Bradley to many parts of the globe from Iceland to Crete, New Mexico to New Zealand,and many places in between where he enjoyed the ride from behind bars, handlebars that is. "I can show you short cuts on the Strade Bianche in Tuscany and know Crete like it was my hometown, but I can't find my mother's house without GPS." When not working, Bradley finds his sanity on a bicycle, fishing, cooking, doing yoga, pottery, arts & crafts, and generally exploring and learning more about the world that surrounds him. "I have found out there ain't no surer way to find out whether you like people or hate them then to travel with them."  Mark Twain
Mike Brown
Senior Tour Guide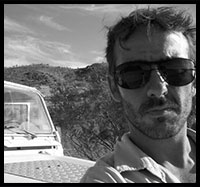 Mike grew up in Baltimore Maryland, but he is no "city-slicker"! At the age of 15 he first experienced the American Southwest at Philmont Scout Ranch in Raton, New Mexico. He fell in love with nature and the beauty of the desert, vowing to come back one day. Mike has excelled in many professions including fashion design, DJ'ing, and massage therapy. In early 2009 he left the world of 9-5 jobs behind to "find himself" and became a global nomad, living, working, and traveling to over 70 countries since. His first guiding experience was at one of the Seven Wonders of the World, Petra, Jordan, where he volunteered with local Bedouins. 14 years later he is still on the move and has guided and escorted tours in places like Spain, Norway, the Canary Islands, Borneo and the Caribbean to name a few. His resume now includes guiding everything from 4×4 off-roading, climbing, and primitive skills in the deserts of Utah, to technical tours on glaciers, kayaking and bush-whacking in the wilds of Alaska. Mike is convinced that travel can bring about positive life changing experiences for everyone, just ask about his!! This is why he continues to guide today. When not working, he is chasing summer around the planet, or volunteering in the National Parks, always in search of the next great adventure.
Nicole Stratman
Senior Tour Guide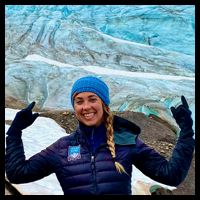 When Nicole was introduced to the world of guiding, she finally knew she had found her tribe. After taking Rascal Flatts sweepstakes winners on backstage tours and promoting sponsors at major music festivals, she left her home of Nashville 2013 to live in New Zealand & Australia and travel independently. When she returned home with a new world perspective, she had the pleasure of guiding clientele around North America for the next 8 years. It brings her great joy to educate guests about geology and history, find intriguing new spots, and support local events along the journey. When she's not guiding, you can find her living on the road with her fellow guide and partner, working with United By Blue national waterway cleanups, supporting local zero waste shops and volunteering, and occasionally skydiving with whoever cares to take the plunge.
Brad "Indy" Holmes
Senior Tour Guide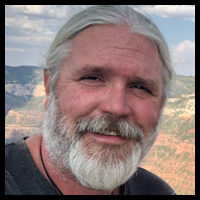 Growing up in the Adirondack region of upstate New York, Indy was embedded with a love of the outdoors and desire for exploration at an early age. Moving to Indiana, starting and maintaining several successful businesses and raising 2 children he decided to change life plans and travel the country to look, learn, explore, and enjoy life on a new level. On one such trip to run a marathon in Phoenix, he decided to explore the Grand Canyon.  His first backpack trip ever and the love of the freedom to explore, with only what you can carry on your back, took over.  With that re-found love of the outdoors, Indy decided to tackle the Appalachian Trail.  The quest was on!  Since then, he has taken on class 5 whitewater rapids, skied all over the country, completed marathons in 30 different states, backpacked in all 50 states, and has guided tours in 48 states and 6 provinces in Canada. Even with all these adventures, his desire to explore and journey to new places is continuously growing. Adding guests to his ventures only heightens the travel experience where he can share in his knowledge, enthusiasm, and passion for North America.
Jack Warren
Senior Tour Guide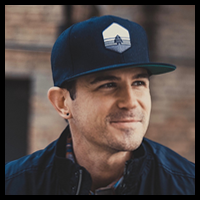 "Growing up in Chicago, Jack wasn't originally exposed to the great outdoors, but after his first Outward Bound course – white water rafting the Salmon River, his life changed forever.  For most of his adult life, Jack has worked to travel and further his understanding of this beautiful planet of ours. He has ventured to 50 countries and volunteered with aid organizations all over the world. After starting his own company and selling his business in 2014, Jack embarked on a road trip across the USA and found his passion as a travel guide.  For the past 7 years, Jack has had the great fortune of showing people from all over the world this great country – our national parks and diverse cities.  All told, he's driven 250,000 miles, crossed the country 30 times, and been to all 50 states on personal journeys and leading trips.  When he's not showing passengers around the US, he loves cruising around America with his partner, Nicole, in their RV. Jack also loves jumping out of planes and throwing friends/ family out of them too. You can't beat the views at 14,000 feet."
Adriann Narciso
Senior Tour Guide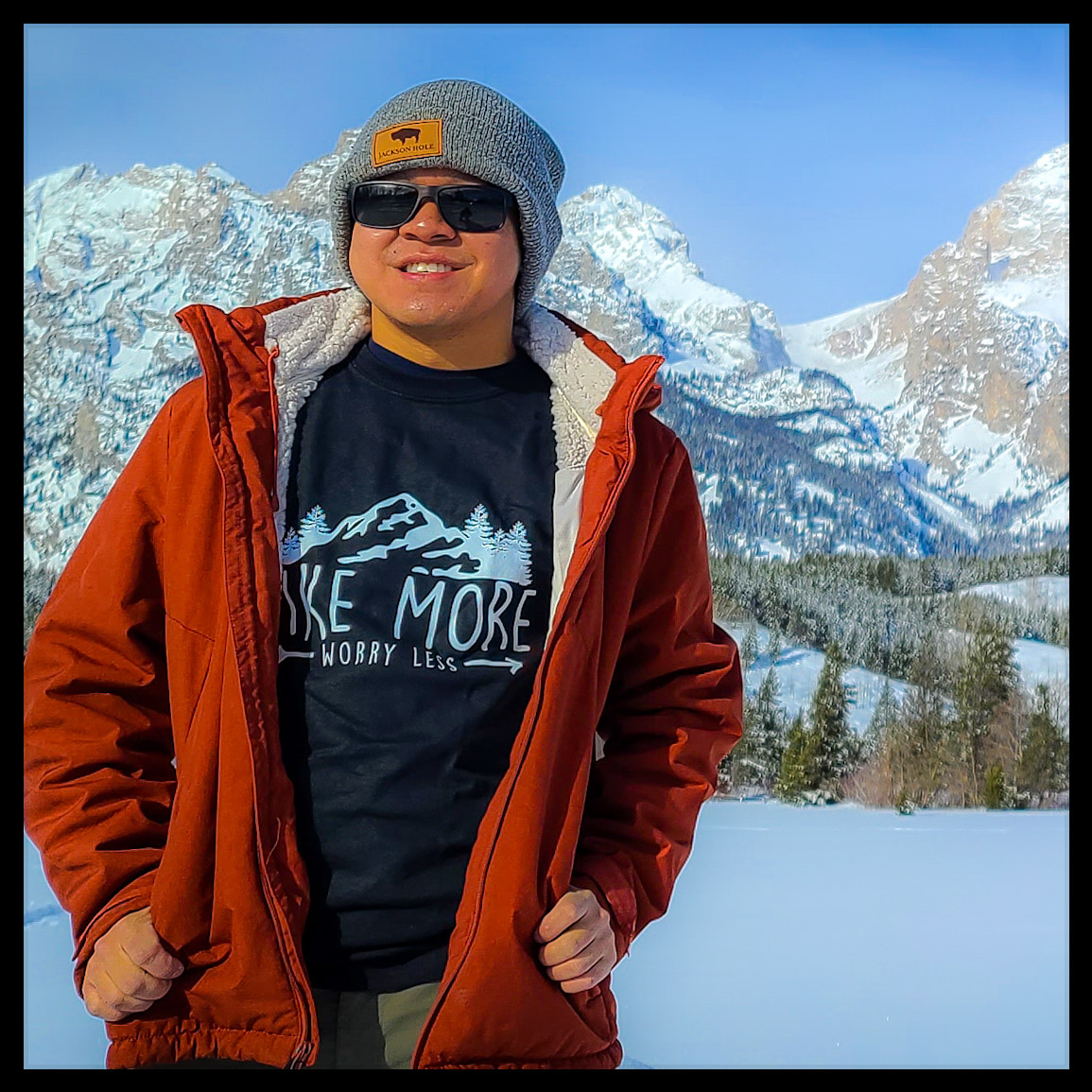 Born in sunny Southern California, Adriann started off working in the culinary world. Working in some of the best restaurants in Los Angeles, San Diego, San Francisco, New York City, before finding a city that he calls home in Las Vegas where he worked under an internationally renowned chef at The Bellagio. Seeking something more beyond the kitchen, Adriann left the world of fine dining and took his love for food and traveled in search of the next best meal. From learning how to make pad thai in Bangkok to finding the perfect croissant in Paris. Wanting to travel more, he put up his apron and took a different direction and found the world of tour guiding. He's been traveling across the country from coast to coast, taking groups into the beauty of our National Parks, all while searching for something good to eat along the way. And on occasion, a little bit of that culinary magic might happen around the campfire.
Charlie Taussig
Senior Tour Guide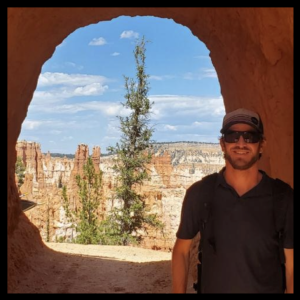 Charlie started the adventure of guiding people around North America in 2010. What started as a fun job for "a year or 2" – really gave him the travel bug. Fast Forward 12 years later – he has brought people everywhere from the Arctic Circle to Hawaii. Charlie has spent 10 years criss-crossing, circling, driving, flying, surfing and hiking all over the continent. It literally took a global pandemic to get him to stop for a minute! After a two year hiatus, he is happy to be back on the road, he can't imagine working a job that doesn't involve having fun and doing something he has great love and passion for – sharing the good times, with people from all over the world and different walks of life. In his free time you will find him with his family and friends in his home state of Washington or traveling the world. At home or abroad, he enjoys many things that involve being outside and sharing it with others. You can always count on finding him exploring, seeing live music, snowboarding and surfing.
Marie Easton
Senior Tour Guide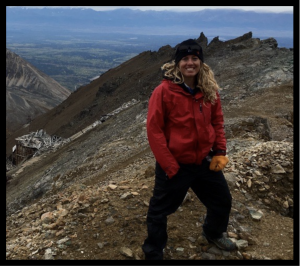 From the tundra of Alaska to the deserts of the American Southwest, Marie has 14 years of experience providing guests an unforgettable on-the-road experience through the United States. She takes special interest in native and edible plant species, Southwestern geology, history of American westward expansion, and Native American history and culture. Marie is originally from Iowa in the Midwest of the United State and has spent over a decade in Tahoe in the Sierra Nevada mountain range of California. She enjoys skiing, cooking, dancing, herbology, all things outdoors, and is currently working on her first belt in karate. With Marie as your guide, you'll be treated to memorable spots off the beaten path, good camp cookin', a great eye for photos, and will be inspired with a love for our National Parks and lands.
Ashley Gamble
Senior Tour Guide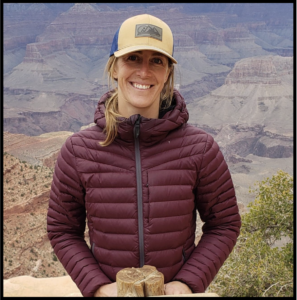 Ashley's journey into the world of adventure began amidst the stunning landscapes of Wyoming, where week-long horse-packing excursions through rugged mountain terrain were the norm. After moving as a child to the ski town of Steamboat Springs, Colorado, her every free moment was spent snowboard through the deep powder or venturing into the forests of the Rocky Mountains. With eight years of guiding under her belt, Ashley has led small group tours across the United States and Canada, including four unforgettable summers guiding in the wilds of Alaska, including leading backcountry expeditions in some of the country's most remote national parks. When not guiding Ashley likely can be found rock climbing or dreaming of her next crack climbing expedition amongst the towering sandstone walls in Indian Creek, Utah or skin devouring granite of Vedauwoo, Wyoming. Any of her other free time is spent hiking, backpacking, rafting, down-river paddle boarding, or feeding her insatiable curiosity about nature and the environment.
Rene Sollberger
Tour Guide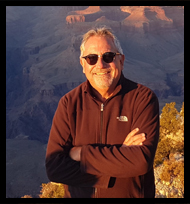 Rene is happy when the horizon is wide. Born and raised in beautiful but tiny Switzerland, he started exploring the world early. No destination was too exotic, and no journey was too arduous. He crisscrossed Southern Europe, Africa, India, Asia and the United States by car, bus and train. In San Francisco he got his first job as tour guide, in 1989. He immediately fell in love with the majestic National Parks and the awesome vistas of the Southwest. Today Las Vegas is his home. Rene's degree is in Physics and Mathematics. He worked as a high school teacher and later as a journalist for major Swiss media. His job then allowed him to travel extensively, and, better yet, he even got paid to do it. Rene loves to meet new people, explore new places, and share the magnificence of their geography, culture and history. That is what brought him back to the travel industry in 2016 when he moved to San Francisco. There is a saying in German that he has taken as his life motto, which could be translated as: Sharing joy only doubles it. Apart from traveling, Rene – who is fluent in three and a half languages – enjoys hiking, photography, swimming, skiing, driving, cooking and eating. In his time off, he still works as journalist and writer. In 2019 he published his first book, a biography of a Swiss diplomat who served as the President of the International Committee of the Red Cross (ICRC).
Chase Dessauer
Tour Guide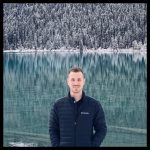 Chase was born and raised in Las Vegas, NV. He loves the city but he takes every chance he gets to be outdoors. In his free time he loves working on his pride and joy, his 1999 4Runner. He loves taking it around the county with his family to camp and explore the nearby national parks. Traveling has always been something he loves. He has traveled to 20 different countries on 4 continents and has goals of eventually traveling to all 7 continents, as well as every US national park. The favorite places he has been to are Switzerland, and Banff National Park, Canada. "We travel not to escape life, but for life not to escape us."
John Harris
Tour Guide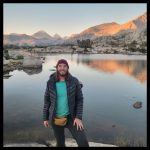 From a very young age, John has always been at home in the great outdoors . As a child, he spent summers with his family, road tripping and camping throughout the western US. This time spent outdoors has instilled a profound passion for nature and all things outside. As a young adult, John spent his time further delving into the outdoors through backpacking, mountain biking, road cycling, and surfing. Whether it was a quick bike ride after work, or a trip to the mountains on the weekend, he chooses to spend his free time breathing in fresh air and experiencing all nature has to offer. He has been on countless backpacking trips and road trips throughout the western US and Canada. His favorite outdoor memory is hiking the John Muir Trail with a complete stranger. Beyond spending his free time in nature, John has built his career in the outdoors. As a previous Outdoor Educator, Tour Guide, and Park Ranger for various agencies in Southern California, John brings a wide breadth of knowledge and experience to his tours. His passion for all things outside is apparent after just a quick conversation. John hopes to share his love and passion for the open road and our beautiful National Parks with each and every Bindlestiff guest.
Chloe Salle
Tour Guide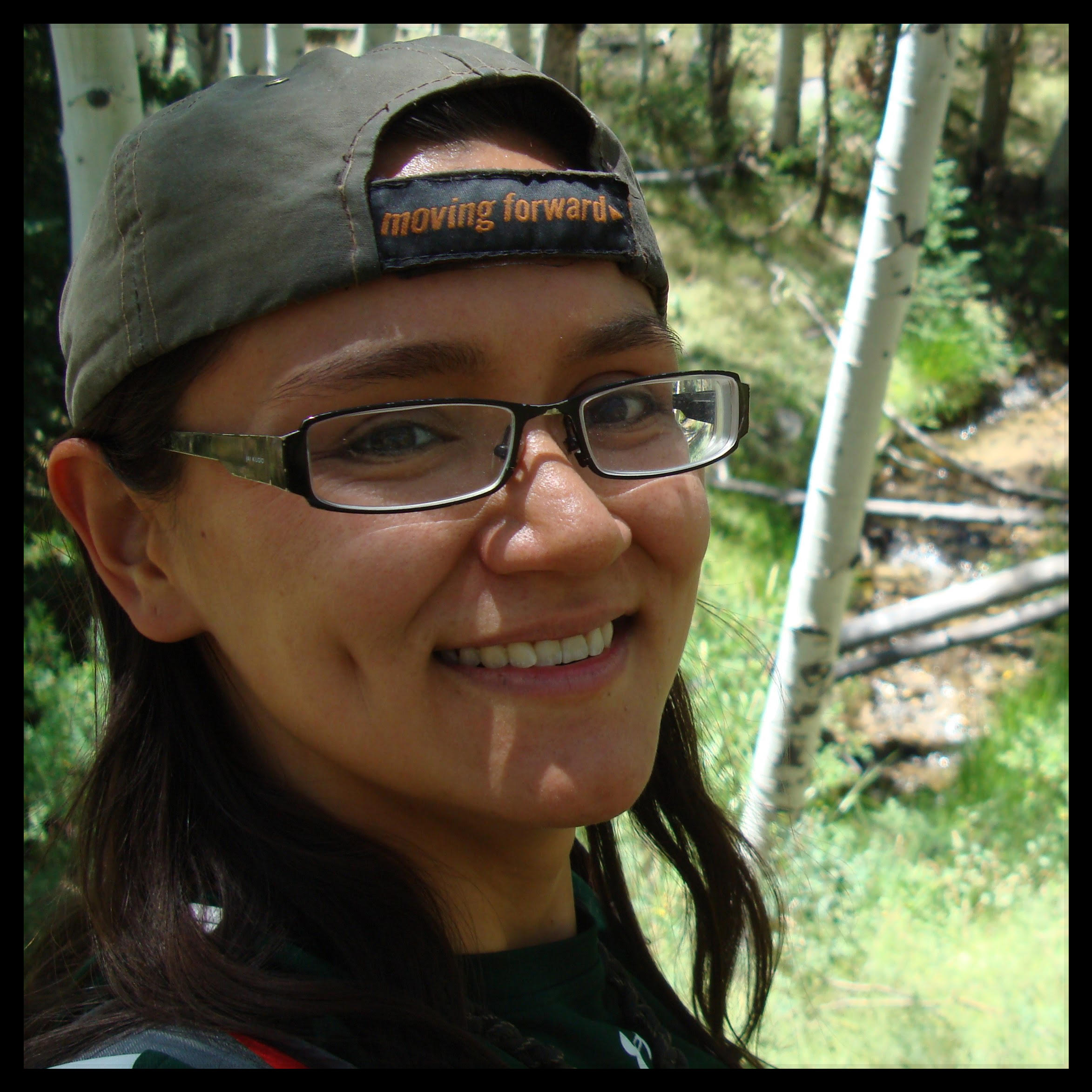 Chloe grew up in Las Vegas and always had a love for the outdoors and nature. Growing up, she and her family spent every available weekend camping and hiking at the national and state parks in the Southwest or flying to tropical islands for beach snorkeling and diving adventures. She worked as a financial advisor and stockbroker for 8 years, but the office life chasing money left much to be desired. Chloe has explored Nevada, Utah, Arizona, and California in her self maintained Toyota Land Cruiser, and she continues to explore both indoors and out. Her love for learning has taken her to the stars with astrology and the electric universe model, to the distant past with mythology, geology, and petroglyph studies, to the present by connecting people with nature on the outside with off-road driving instructing and outdoor guiding, and on the inside by guiding usage of healing herbs, cleansing juices, and whole foods.
Haley Thomason
Tour Guide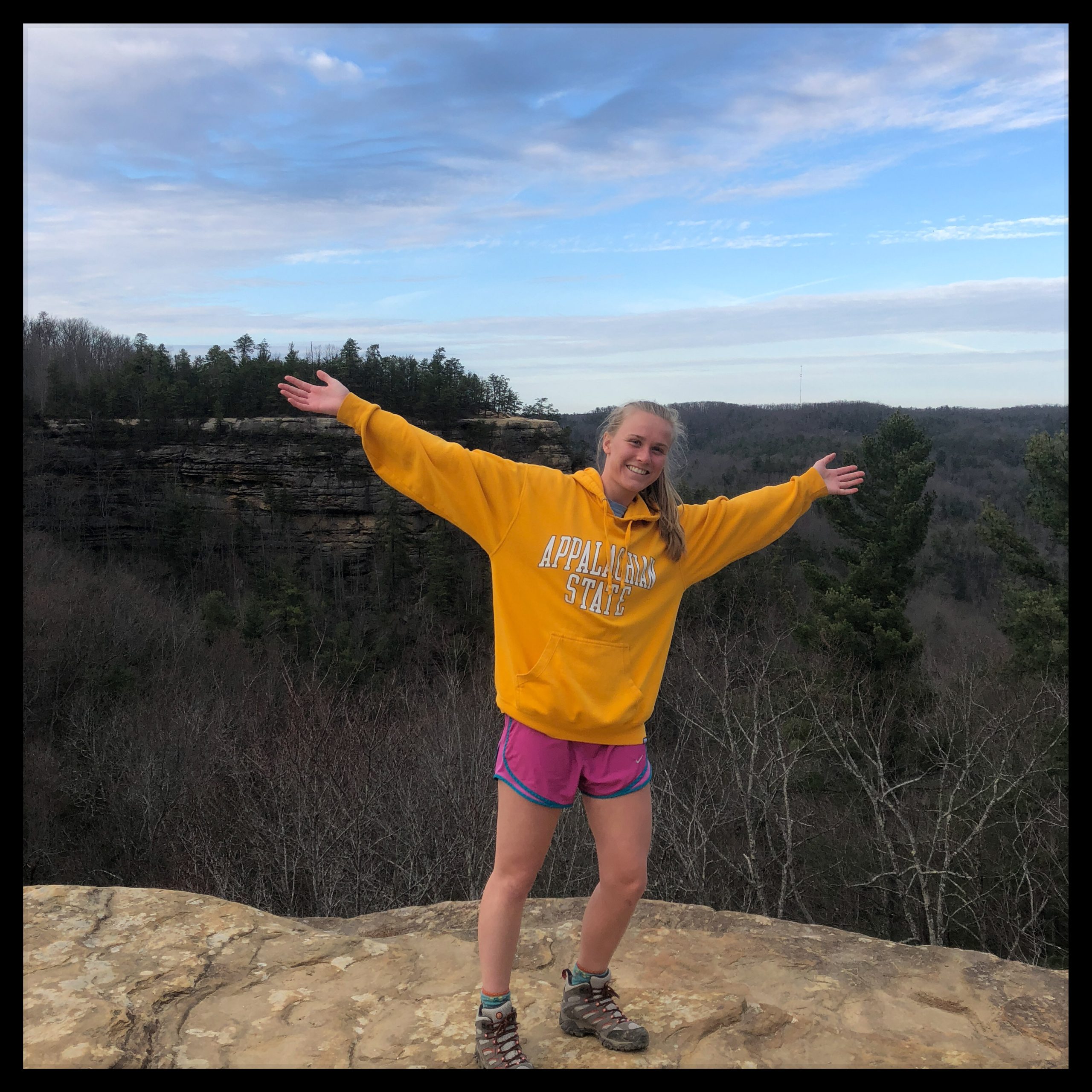 I always had a passion for adventure. Born and raised in North Carolina, I spent four of my years in the heart of the Blue Ridge Mountains in the beautiful town of Boone, North Carolina. Boone is what kick-started my passion for adventure. Whether that is hiking the trails that lie on the ridge, to reaching peaks for a heavenly sunset – I've always had a gravitational pull towards nature and the beauty that lies within. Nature is the way I connect with myself and others. This world is full of peaks, valleys, wonders, and beauty and I am always on the move for the next best sunset, or a night out camping to explore what nature has to offer.
Hogan Malek
Tour Guide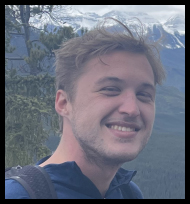 Born and raised in North Carolina, Hogan attended Appalachian State University where he worked for Outdoor Programs and spent a summer as a backpacking instructor in the Appalachian Mountains. He has always felt at home in the outdoors and when he isn't spending time in nature he enjoys reading, cooking and road tripping with friends. Hogan has spent time in most of the national parks in both the U.S. and Canada and recently took a backpacking trip to Costa Rica. A perfect day for Hogan starts and ends under the stars, with dust on his boots and a sunburn on his neck.
Mark Sheehan
Tour Guide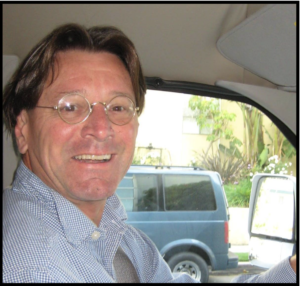 Mark is the author of the best-selling "Know BEFORE You GO Guides" titled America Over Easy! Now in its' fifth re-print with New Holland Publishing. He has written travel guides for professional Tour Directors and free-lanced with over 100 newspapers and magazines worldwide. Alongside iconic names as Richard Branson &; Ted Turner Mark has helped establish such brands in the Travel Industry as V Australia, Trafalgar USA, Insight,TrekAmerica, and Destination America for The Travel Corporation. He is a certified "American Specialist" living between a home in the USA and Sydney, Australia. Mark is a founding-Director of www.travmedia.com with Nick Wayland Mark's post 9-11 non-profit, non-political group The America First Campaign, is credited alongside ATI with re-igniting travel to the USA after 'certifying' over 8,000 travel professionals in 11 countries. Mark has been a walking advert for spending time in the Great Outdoors & National Parks for decades. Mark has penned tour guides for others, and enjoys sharing the best of Mother Nature in North America. His passion is, for spreading the word about his home country with others.
Dylan Repasky
Tour Guide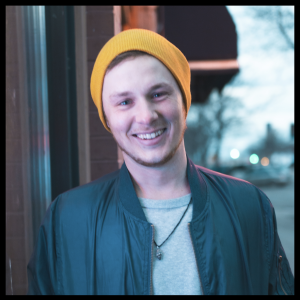 Dylan grew up climbing trees, wrestling gators, and losing fights to mosquitos in the swamps of Florida. While always a fan of sports, frolicking, and playing outside, the idea of making a life of traveling was never part of the plan. A Musician by training, his transition into life on the road began when a buddy said "Hey man we're gonna ride our bikes across the country. You're coming". Three months, 5000 miles, and many flat tires and near death crashes later, and the travel bug was fully and thoroughly embedded. After Bike Tour, he joined a Backcountry Trail Crew where he lived in a tent in the California Wilderness for nearly 6 months, bathing in snow-melt rivers, hiking up to 10 miles a day carrying sledge hammers and axes, and having no contact with the outside world besides hand written letters delivered by mule. Upon reading Elizabeth Kolbert's "The Sixth Extinction", he got SCUBA certified and bought a one way ticket to Sydney Australia, to dive on what's left of the Great Barrier Reef. From there he camped and backpacked all over Australia and New Zealand, and discovered that bungee jumping is, in fact, cooler than skydiving. After returning to the US, he traveled across the country again, this time in his super duper cool van, until he landed a job as an Activity Guide in Montana, leading tours on everything from mountain bikes to ATV's to jet skis . With an ever burning passion for nature and adventure, discovery and camaraderie, Dylan is excited to share the beauty of our wonderful country with you!
Spencer Kull
Tour Guide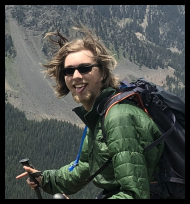 "Change Lives." This is a phrase that is always in the back of Spencer's mind while he's out experiencing the wonders of this beautiful, natural world we call home. A native to Western New York, Spencer grew up not too far from America's largest state park: The Adirondack Mountains. As a boy growing up, Spencer was introduced to the Adirondacks through Scouting and quickly he became obsessed with climbing those rugged peaks. This is where Spencer's love for the outdoors was born. With Spencer's hiking partner, his dad, by his side the entire way the pair eventually summited all 46 of the tallest Adirondack Peaks over the course of 8 years. Spencer would also go on to be awarded his Eagle Scout Award during this time. Spencer eventually branched out of New York and ended up heading out west on 3 trips to Philmont Scout Ranch in Cimarron, New Mexico where he first developed his passion for guiding. Spencer thought he would give back and decided to work at Philmont for 3 years as a backpacking guide leading people from all across America in an area he knows all too well now: The Sangre de Cristo Range of the Rocky Mountains. This is where everything ties back to that quote "Change Lives." This was his parting gift from his time at Philmont. Every person matters and you don't know how your time with them, great or small, will impact them. Spencer changed thousands of lives at Philmont and is extremely excited to bring that same enthusiasm and dedication to Bindlestiff Tours.
Kaitlyn Usher
Tour Guide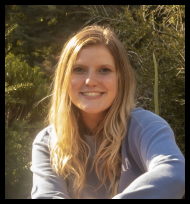 Growing up in Florida, Kaitlyn did not get a taste of the mountains until moving to Tennessee to pursue her undergraduate degree. She discovered her love of the mountains, and would spend her freshman year eating breakfast while looking out on the smokies from her dining hall. Nearing the end of her college years, Kaitlyn realized that her desire to explore far exceeded her original career plan she had set for herself, and decided to act upon what she truly wanted. Following graduation, she moved to Seattle, Washington for 3 months for the sole purpose of exploring Mt Rainier and the North Cascades. The most breathtaking view Kaitlyn has witnessed to this day was at the top of Box Elder Peak during the fall. Kaitlyn loves hiking with friends, and wants to share the beauty of the world with others. Aside from hiking, she loves reading, weightlifting, and any water activity.
Tim Metcalf
Tour Guide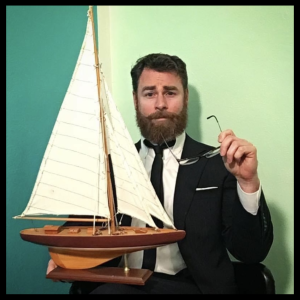 Tim has been leading tours for the better part of a decade. His love for travel began here in the US herding cattle on a ranch in Roundup Montana and cutting packhorse trails through the mountains above Helena. That drive led him to a year teaching English in Korea which became backpacking Southeast Asia for six months. His desire to explore the world around him found a natural home in tour guiding where the reward of providing experiences for others has become his passion. Tim has led tours from deserts to jungle to ocean including in the worlds brightest bioluminescent bay on Vieques Island Puerto Rico. He recently returned to his hometown of St. Louis on the banks of the muddy Mississippi. There he wrote a series of historical walking tours and built a successful small business but he was happy to put history behind him and return to the open road!
Becky Stone
Reservations Assistant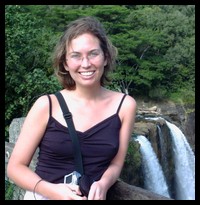 Becky's love for travel began at an early age. From the UK, Becky's family used to take her on annual holidays all over Europe and later on further afield to Africa, Thailand and the USA. Passionate about anything travel Becky enjoys anything outdoors and spends her free time sailing, water skiing and kayaking.  Becky's love for adventure travel led her to us and she is now our full time Reservations Manager and part time tour guide.  An adventure with Becky will be fun, educational and awe-inspiring as she will take you to all the best scenic photo spots away from the crowds. Her favorite Southwest USA destination is Monument Valley.