Flavors of Vintage Las Vegas: The Downtown Arts District
Discover Las Vegas's rich history. ($49 per person) Duration: 2 hours. Departs 1pm Tuesday, Wednesday, Thursday, Friday, and Saturday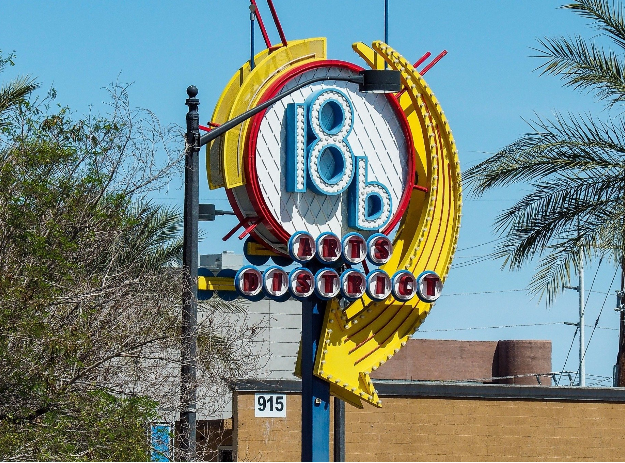 Departs 1pm Tuesday, Wednesday, Thursday, Friday, and Saturday

($49 per person)
Duration: 2 hours
Highlights:
Discover Las Vegas's rich history on a fun small group tour  (max of 14 guests), through the Downtown Arts District — the thriving local arts scene.  This two-hour walking tour with an artist guide takes you to galleries, quirky pop culture stores and vintage-Vegas antique shops. We'll see some amazing public artworks/murals and meet up with local artists who give the place its creative feel. Along the way, we'll sample some tasty bites at a local eatery and have a complimentary cocktail or brew at an urban lounge. This unique tour is off the beaten track, mixing history, culture and food — let us introduce you to the Las Vegas arts district!
Itinerary 
Your Las Vegas tour begins at a repurposed industrial complex of 20 galleries in the heart of an 18-block neighborhood that's in a flurry of redevelopment. We'll showcase a few of our favorite galleries and shops, point out some cool spots for lunch and introduce that hybrid-type tavern known as the 18b Urban Lounge. We'll visit the landmark building where the neighborhood was founded, check on the new arts trail from Fremont Street, visit the Burlesque Hall of Fame, and hear tell of plans to build a Las Vegas Art Museum nearby.
We'll encounter neighborhood murals, stroll by the latest "street art," stop by a pop culture sculpture that's a favorite photo op, and we might show you the quirky secret portrait of the legendary Las Vegas mayor who paved the way for this arts neighborhood.
Your artist guide will give you the big picture and some neat little details about the neighborhood. Want to know the best place to get a cappuccino, a craft beer or a Cornish pasty? We'll point the way. Want to buy a Steam Punk hat? We know just the place.
And here's a wow bonus: If you take this tour on the first Friday of the month, you can be part the biggest home-grown cultural block party in Downtown, known as First Friday in the Arts District.
Finally, we'll trek a block or so to a nearby antiques district developing along South Main. If you've ever wanted to be in the middle of a real vintage Vegas experience, this is it! Up and down the street are the best retro Vegas stores ever, many specializing in the mid-century modern era. You might see a classic restored neon sign or that look-a-like couch from the Brady Bunch or that Lucite dining room set you swear is from a James Bond movie. Look around and you'll see more cozy bars and shops — everything from a retro beauty parlor to a yoga studio. It's all happening on Main Street Las Vegas where "what's old, is new again".
Guests must be over 21 years of age with valid ID to join this tour.