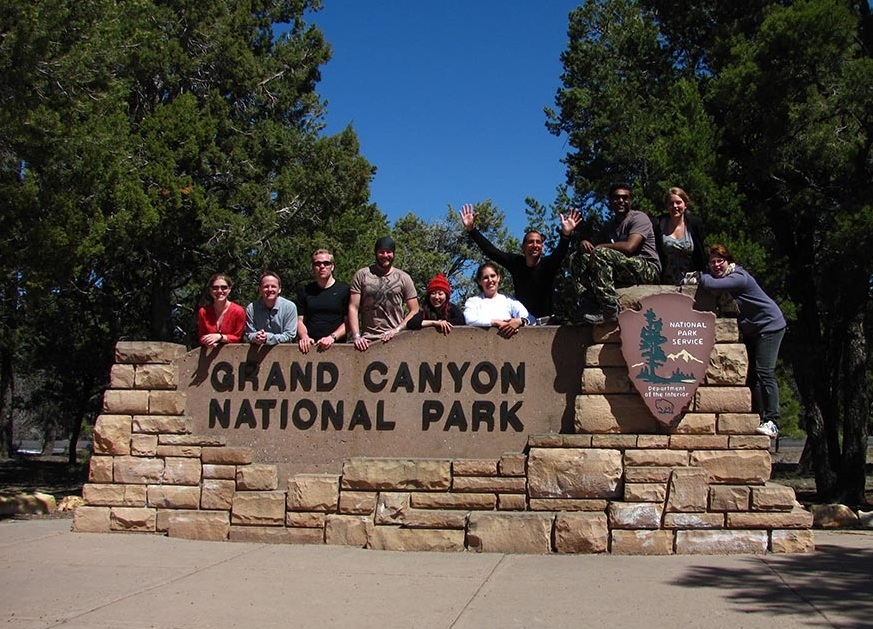 Bindlestiff Southwest Tours info and FAQ's:

You're on Holiday!
You are on holiday! Let us take the stress out of your life and do most of the hard work! However, your safety is your responsibility. Please respect your tour leader's advice.
Join in with things that perhaps you haven't done before! Enjoy new experiences, take part wherever you can.
Be Flexible-We've done this before
Bindlestiff Tours are flexible, meaning that your tour leader may alter certain night stops to maximize your enjoyment, maybe you opt to visit a local event or stay longer in a certain place, relax and go with the flow!
Time to Explore
We have the opportunity to enjoy two or three night stops on most of our trips. This gives you the opportunity to explore at your own leisure, using local buses or other local transportation gives you the freedom to get out there, see the sights and enjoy the night life!
New Friends
Small group adventure is growing in popularity. It provides a great way to meet people from all over the world in a very social setting. Our maximum group size is 13, giving you the opportunity to meet like minded individuals and form new friendships. It also ensures that we can provide flexibility in meeting individual needs.
Our Commitment to the Environment
We promote the philosophy of 'take only photographs and memories and leave only footsteps'. Please respect the environment by sticking to existing trails, disposing of trash appropriately and recycling wherever possible.
FAQ'S
What should I pack?
Be prepared for both warm and cold temperatures. Generally speaking on our summer tours you can enjoy warm days but nights can sometimes get cooler. It's a good idea to pack a warm pair of socks, woolly sweater  or hooded jacket, hats, gloves, rain jacket, hiking shoes, warm coat and of course your favorite fancy Las Vegas outfit!
We recommend 3 season sleeping bag for your Southwest USA summer tour and essential camping items such as a torch and a decent battery operated alarm clock! On our Grand Canyon, Yosemite and Bryce tours we advise some warm sleep wear.
For one to three day tours we will supply you with a sleeping bag if you are choosing the camping option.
I've never camped before will that be a problem?

Don't worry! We will take care of pretty much everything-we supply all necessary camping equipment except your sleeping bag. We call it comfort camping or "glamping"! Our spacious four person tents are easy to put up and take down and our experienced tour leaders are there to help you every step of the way. Sharing a tent with a fellow trekker of the same sex will leave you with plenty of extra room! Most of the campsites we us are fully equipped with WIFI, laundry, hot showers, some even have outdoor hot tubs and swimming pools.
Helping out on the camp kitchen is fun way to sample cuisine from all over the world -your tour leader will guide you through chores. Shopping for meals, loading and unloading the trailer, and preparing meals will make you part of the team!
How much are the hotels en route?
Our local payment policy for en route hotels enables us to keep the cost of your tour low and gives us more flexibility in the hotels we use, allowing us to take advantage of special discounts and incentives. En route hotels are usually between $30-$50 per person per night and are offered on a same twin share or couple basis. Where indicated we may also use hostels.
Can I come on the tours on my own?

Traveling solo? Take advantage of our no single person supplement policy, many of our clients are traveling solo, you can relax knowing that you will not be charged a penalty for a single person booking and since you will be traveling with like minded individuals who share your passion for adventure you will be sure to have new friends and memories to last a lifetime.
How much should I budget for food?

In order to help you budget for meals on our camping tours, your tour leader will arrange a food kitty of $10 per person per day. This generally covers breakfast, sandwich lunch and an evening meal on camping days. It does not cover soft drinks, alcohol or meals at local restaurants when groups decide to sample local cuisine. Naturally it doesn't cover meals on hotel stops.
Can I take part in some optional activities?

Our lasting relationships with local vendors allow us to offer great rates on activities specifically tailored to each tour. You will be guided through a number of activity options and based on personal preferences your tour leader will arrange your optional activities for you. Each tour has both included activities and optional activities. We have listed the many optional activities along with a guide to their prices per each tour so that you can budget accordingly.
How much luggage can I bring?

Please limit your luggage to your sleeping bag, a main piece of luggage weighing no more than 20kg and one piece of hand luggage.
How do I carry my spending money?

ATM; s are readily available through the USA and your tour leader will point you in the right direction whilst on the tour. Travelers cheques are also widely accepted form of payment in the states. Credit cards are not accepted for many optional activities, en-route hotels and food kitty.
I heard that tipping is the custom in the USA-how much should I tip?

It is an American custom to tip guides, waiters, bar staff, taxi driver s etc. and it is expected. Your Bindlestiff Tour leader will work exceptional hard for you and we recommended a discretionary tour leader tip of $5-$7 per person per day.
English is not my first language, will I be able to understand information given to me whilst on tour?

Our Southwest USA tours are conducted in English but our tour leaders are experienced in leading groups of different nationalities and will speak slowly and re explain things if needed. We are here to help.
Where do the tours depart?

Passengers must make their own way to and from our gateway hotels. We will reconfirm the details and how to get there during our booking process, unless your tour includes a free pick up in which case we will ask you for you hotel name and advise you further.
Las Vegas
Super 8 Las Vegas Strip area
4250 Koval Lane, 1 Block off the Strip, Las Vegas, NV 89109, Tel:  (702) 794 0888
From the Airport follow the signs to Courtesy Hotel Pick Up area and use the free customer service phone to call your free 24 hour shuttle to the hotel.  Alternatively jump in a taxi, it's only 15 minutes from the airport and should cost under $20.
Los Angeles
Hostelling International Santa Monica
1436 Second Street, Santa Monica, CA 90401 USA Tel: (310) 393-9913
Website: www.HILosAngeles.org
Taxis available or Super Shuttles are available outside baggage claim at LAX International Airport. No reservations needed for the Super Shuttle and costs approx $20 and a taxi costs approx $50.
San Francisco
The Good Hotel
112 7th St  San Francisco, CA 94103, Tel: (415) 621-7001
The Good Hotel is located in downtown San Francisco and can be reached from the San Francisco International Airport by shuttle. Lorries shuttle are available 24 hours a day and can be found just outside the terminal. The trip takes approximately 45 minutes depending on traffic and costs $17 per person.
Flights
Bindlestiff Tours does not offer flights directly however,  if you are in the UK we recommend using Travel Counsellors to arrange your travel requirements. Travel Counsellors may be contacted on 0845 058 7815 or email Lucy.thurston@travelcounsellors.com
Remember, we are here to help you with any questions or concerns every step of the way so please contact us if you need to!