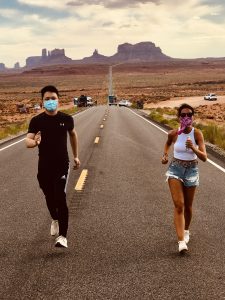 At Bindlestiff Tours we are closely monitoring government policy changes, Centers for Disease Control (CDC) guidelines, government mandates, and public health advancements and will continue to make changes as deemed necessary and appropriate to our protocols and procedures. Therefore, the information contained in this document is subject to change at any time. Compliance with all posted and below Bindlestiff Tours policies and protocols will be required to participate in a tour and applies to all guests.
Employee & Guest Health The health and safety of our employees and guests is our number one priority. We are following advice from the CDC and other relevant guidelines laid out by local authorities.
Employee & Guest Health Concerns Our employees have been given clear instructions on how to respond swiftly and report all presumed cases of COVID-19. We will be ready to provide support to our guests. Employees are instructed to stay home if they do not feel well and are instructed to contact management if a guest has a cough, shortness of breath, or other known symptoms of COVID-19. Guests who are exhibiting any of the symptoms of COVID-19 while on tour are instructed to immediately notify their tour guide.
Physical Distancing Guests will be advised to practice physical distancing by standing at least six feet away from other groups of people wherever possible. Guests will be reminded to refrain from touching their faces and to practice physical distancing whenever possible.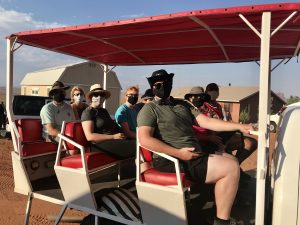 Camping Equipment (for camping tours only) All camping equipment will be sanitized between tours and guests will be assigned the same camping equipment for the duration of the tour.
Vehicles All tour vehicles will be sanitized before your tour, using will be additionally sanitized by the tour guide during the tour whenever possible.
Disposable Face Masks It is highly encouraged to bring your own hand sanitizer and face covering, and to wear your face covering while traveling. If you forget your mask, one may be available for you while stocks last. Guests will not be required to wear their face mask when they are in the tour vehicle. Please note that some parks and states are mandating that members of the public wear face coverings at all times when in public. Since these mandates are continuously being updated, we encourage you to reach out to us close to your tour date for the latest mandates in each area of your tour.
Hand Sanitizer Hand sanitizer will be readily available and free for guests to use throughout their tour.
Camping and Lodging Accommodations All hotels and campgrounds used by Bindlestiff Tours are following sanitization protocols and procedures. Please email us at info@bindlestifftours.com for information on how to access each facility's procedures.
Food kitty and communal meals where applicable Any tours that offer communally cooked/prepared meals may be altered in the short term. Any camping evening meals may be replaced with restaurant service at the guest's expense. Due to these circumstances, local food kitty payments may be reduced and guests will be notified on a per-tour basis if this applies.
What if someone shows symptoms of COVID-19 on a tour? If a customer feels unwell during their trip, our guide will assist them to access medical care. This may include facilitating COVID-19 testing.
Will my trip continue if someone on the trip tests positive for COVID-19? If a customer tests positive for COVID-19, they will be assisted to leave the tour in line with CDC guidelines and will be offered access medical care (if required). They may be required to isolate for a period of time. Our customer service team will assist with accommodation and onward travel plans, however we highly recommend that guests have travel insurance in place that covers this instance. Whether the rest of the group can continue on the trip will be managed on a case by case basis. Our goal is to keep the trip going wherever possible unless we are required to end the trip in line with local regulations.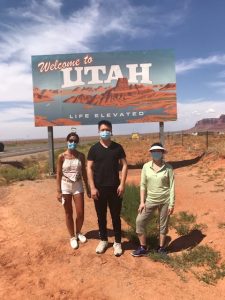 New tour offerings We know guests are anxious to return to the great outdoors. Many guests might be more comfortable primarily traveling with those they know rather than being a part of  large tour groups. We are happy to announce we have launched a series of new Private Tours.
Take a look at some of our amazing experiences at www.bindlestifftours.com and don't forget to bring your camera!
What can you do to keep yourself and other guests safe?
Wash your hands! This is your best defense to avoid sickness. When washing your hands, use hot water and soap. Be sure to wash your hands for 20 seconds or longer to efficiently get rid of any bacteria.
 If you are feeling sick, please let your tour guide know immediately for the safety of yourself and others.
 Cover your cough/sneeze with a tissue or your inner elbow. Do not cover your sneeze with your hands!
 Be sure not to touch your eyes, nose, mouth with your hands if they are not clean.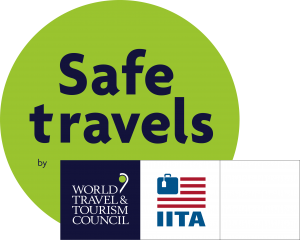 IITA is delighted to recognize Bindlestiff Tours' efforts by issuing the Safe Travels stamp.
You are part of a fast-growing global network of important national, regional and local governments, destinations and travel organizations that have committed to rebuilding confidence among travelers, so "Safe travels" can be enjoyed as restrictions are eased.
The Safe Travels stamp is the world's first ever global safety and hygiene stamp for Travel & Tourism, designed specifically to address COVID-19 and similar outbreaks. It is proving a great success, demonstrating its importance not only to destinations and businesses, but also to travelers and the hundreds of millions of people around the world who work in, and depend on, travel & tourism.

A message from the owner:
Dear future adventure travelers,
For any travelers concerned about booking future travel, I am pleased to introduce one of the most flexible travel policies in the industry temporarily, giving guests the freedom and trust to make future travel plans as well as securing a great discount.
Please enjoy a discount with the following promotional codes*
Applicable to select multi day tours PROMO CODE Letsgo30 for a $30 per person discount.
FLEXIBLE BOOKING POLICY for new bookings made through Dec 31st 2022 for all travel prior to Dec 31st 2023:
One day tours
We offer a full refund for cancellations made for any reason 24 hours prior to departure. Any tours cancelled within 24 hours of departure will be treated as a no show with full payment due.

2-4 day tours
We offer a full refund for cancellations made for any reason 14 days prior to departure. Any tours cancelled within 14 days will be treated as a no show with full payment due.
7 days and over
We offer a full refund for cancellations made for any reason 30 days prior to departure. Any tours cancelled within 30 days – 14 days of departures will be offered future travel credit to use for travel with Bindlestiff Tours for travel prior to Dec 31st 2023. Tours cancelled within 14 days of departure will be treated as a no show with full payment due. *Excludes private tours
The 'Travel Credit' functionality allows guests to choose a different departure date or change their destination without any additional cancellation or amendment fees.
(*Additional charges for price differences may apply depending on the chosen tour or departure dates and credit for equal or greater value).
In order to take advantage of this functionality, please be aware that:
– The credit on file has to be used to travel before December 31, 2023.
– Credit placed on future tours are non-refundable and change fees may apply to further date changes.
-A rebooking fee of $25 per person applies at the time of rebooking.
– Refund amounts will be credited back to the original form of payment used to purchase your tour.
– If you have booked through a travel agent, please contact your travel agent to amend or exchange your ticket for a travel credit/voucher. If you made your reservation on  bindlestifftours.com or through any of our offices, you can rebook or exchange your ticket for a travel credit/voucher by contacting us directly. info@bindlestifftours.com or by calling 1 800 557 6989.
We hope this functionality will give you freedom and trust to make future travel plans. Please, let us know if you have a travel date in mind or would prefer to leave the credit on file and email us when you are ready and excited to book.
Myself and the entire Bindlestiff family look forward to taking you on the trip of a lifetime!
Rachel Urban
Owner
Bindlestiff Tours®
As the world works through these challenging current events please remember –
Friendships are not cancelled, Love is not canceled, Positively is not cancelled, Laughter is not canceled and Hope is not cancelled. Let's get through this together.