Hiking Southwest USA
All of our tours are multi active, meaning that are many optional activities for you to choose from. So whatever you are into, whether its hummer tours, mountain biking, rafting, canoeing, horse riding, taking photographs or enjoying a half day or full day National Park hike there is something for everyone.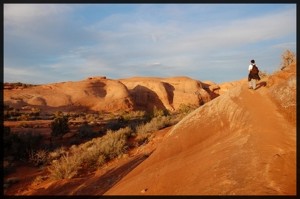 Our walks and hikes are tailored for each and every group to ensure that individual needs are met, and since there are no guided hikes on our tours you are free to pair up with other passengers and explore at your leisure once you have received maps and recommendations from your Tour Leader.
The Southwest USA is home to some of the most beautiful, awe-inspiring and unique landscapes on earth and one of the best ways to enjoy it to dust of your walking shoes and hit the trials!
Why we love hiking Southwest USA:
It's home to some of the best slot canyons of the world
It's home to almost all the natural stone arches of the world
You can find some of the best day hikes in the world including Angel's Landing and Zion Narrows
There are very few biting flies
It's a photographer's dream: sandstone monoliths, towers, and other unique geological structures
The Southwest USA includes all of the amazing Colorado Plateau
Here are some of our favorite Southwest USA hikes:
Bright Angel Trail to Plateau Point- The Grand Canyon National Park South Rim
The Bright Angel Trail begins just west of Bright Angel Lodge and offers day hikes that range in distance up to 12 miles (round trip). The Bright Angel Trail is one of the two main day hikes in the Grand Canyon, the other being the South Kaibab Trail. Both of these trails are well maintained and offer some spectacular views of the Canyon and the Colorado River below. The Bright Angel Trail has the advantage of offering a considerable amount of shade. Water is available on this trail.
Elevation gain-3000ft
Difficulty rating –Strenuous.
Length-12 miles round trip
Navajo/Queens Garden Trails -Bryce National Park
Beginning at Sunset Point and connecting the Navajo Loop with the Queen's Garden Trail will take you past hundreds of towering red sandstone pillars-hoodoos, some reaching 150 feet high. Vibrant oranges and reds jump out at you against brilliant blue skies, making it one of the most scenically diverse and most photographed places in the world.
Elevation change 600ft
Difficulty rating –moderate
Length- 6 miles
Delicate Arch-Arches National Park
Delicate Arch is a world-famous, much photographed, natural landmark, to get there requires a rugged half day hike over the famous red slick rock of Utah. Following a trail marked by cairns you will eventually wind your way around a rock wall to view this magnificent natural arch. Although it is now named Delicate Arch it was originally name Landscape Arch, but the name was switched to the now called Landscape Arch as it was more fitting. This is a fabulous hike around sunset or sunrise and is definitely worth the early start to beat the heat!
Elevation change: 480ft
Difficulty rating-easy – moderate
Length -3 miles
Grand View Trail-Canyonlands National Park
This level trail is an easy and popular route to one of the finest panoramic overlooks anywhere in the Southwest, right at the southern tip of the Island in the Sky plateau (Grand View Point), the views encompass the confluence of the Green and Colorado Rivers, vast areas of red rock cliffs, the incredible Maize district, deep ravines at either side, and distant mountain ranges on the horizon.
Elevation gain-Minimal
Difficulty rating -Easy
Length- 2 miles round trip
The Mist Trail -Yosemite National Park
This amazing trail follows Vernal and Nevada waterfalls and is a must for anyone visiting Yosemite National Park. Take the Mist Trail up to the top of Nevada Falls for outstanding views of Yosemite Valley and world-famous Half Dome. If you are lucky, you will see rainbows in the water that sprays off the waterfalls and enjoy the cooling mist on a hot day that aptly named this trail. Take a picnic lunch and soak you r feet in the crystal clear (and cold) pools at the top of the falls before heading back down on the John Muir trail making a loop.
Elevation gain-2000 ft
Difficulty rating-Strenuous
Length -7 miles round trip.