Bryce Canyon National Park
Bryce Canyon National Park, UT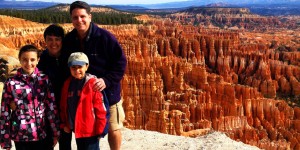 Bryce Canyon National Park is located in southwestern Utah in the United States. Despite its name, it is not a canyon, but a series of giant natural amphitheaters made up of multi-colored pinnacles of limestone. These distinctive geological formations, called hoodoos, have been carved over time by stream erosion and frost wedging along the eastern edge of the Paunsaugunt Plateau. The elevation of the rim at Bryce averages between 8,000 to 9,000 feet, much higher than that of nearby Zion National Park, and the park covers approximately 35,835 acres of spectacular scenery.
Visitors can tour Bryce Canyon year-round, and whether they plan to spend a week or a few hours, there is something for people of all ages and interests to do to enjoy the park's breathtaking scenery. Bryce Canyon is host to a diverse range of plant and wildlife species in addition to its spectacular landscape formations, and is considered by many to be one of the most scenically diverse places in the world. The brilliantly colored formations shine under the bright afternoon sun, but glow exquisitely under the softer light of the rising or setting sun. The high altitudes and pristine air gives photography enthusiasts a spectacular backdrop for sunrise and sunset photos, allowing them to view great distances. On extremely clear days, the Black Mesas of eastern Arizona and western New Mexico can be seen some 160 miles away. Bryce Canyon's 7.4 magnitude night sky makes it one of the darkest in North America, allowing stargazers to see 7,500 stars with the naked eye. In comparison, light and city pollution limits viewers in big cities and most other places to as little as a few dozen stars.
There are plenty of ways to view Bryce Canyon National Park's grandeur. Most visitors drive the scenic route to access the 13 viewpoints over the amphitheaters, while others enjoy the many hiking trails that offer varying levels of difficulty to choose from. Other forms of travel through the park include walking, biking, shuttle, and horseback riding. The perfect way to travel through the park during the winter months is by snowshoeing, or by taking advantage of the dozen or so miles of ungroomed skiing trails. A variety of overnight accommodations are available that range from comfortable hotels and lodges to fully equipped campgrounds. Backcountry camping gives more adventurous visitors an opportunity to experience the wonders of the open wilderness.