Monument Valley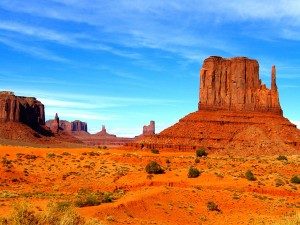 Located near the Arizona-Utah state line, Monument Valley is a five square mile region of the Colorado Plateau, and is a part of the Navajo Nation Reservation. Monument Valley is characterized by its breathtaking cluster of vivid red sandstone buttes, some of which tower 1,000 feet above the valley floor. This iconic valley has been home to generations of Navajo families, and has been chosen as the location for hundreds of Western movies.
Monument Valley's butte and mesa formations have been gradually carved out by slow-moving rivers, which deposited their siltstone on the valley floor. The majority of siltstone originated from the Cutler Formation of the Colorado Plateau. The bright red colors that characterize this area are created by the iron oxide in the siltstone being exposed to the elements. The buttes get their stratified appearance from three layers of sandstone. The top layer is made up of Moenkopi shale and Shinarump siltstone, the center layer is de Chelly sandstone, and the bottom layer is Organ Rock shale.
Visitors to Monument Valley will never forget the majestic views and striking colors created by the juxtaposition of butte and mesa formations thrusting upward from the sweeping valley floor. Don't forget to bring a camera to capture the beauty of geologic wonders including the Mittens Buttes, Merrick Butte, Sentinel Mesa, Pine Tree Arch, Stout Arch, Honeymoon Arch, and Mitchell and Wetherill Mesas. The valley is part of the Grand Circle, a vast region containing America's largest concentration of national parks and monuments. In addition to Monument Valley, the Grand Circle also includes the Grand Canyon, Zion National Park, Bryce Canyon, Lake Powell, and the Four Corners region. Four Corners Monument, where four states (Colorado, New Mexico, Arizona, and Utah) meet, can easily be visited while exploring the Monument Valley area.
Monument Valley may be toured by driving, hiking, horseback riding, and even by hot air balloon. Parts of the valley are only accessible by guided tour, such as Mystery Valley and Hunts Mesa. It is recommended that visitors appreciate the valley's spectacular natural formations by venturing off of the highway and exploring the landscape. Guests planning to tour Monument Valley for more than one day may choose to stay at one of the lodges, hotels, or inns located in the valley, or camp at the Monument Valley Campground at the entrance to the Tribal Park.