7 Day Yellowstone National Park Rocky Mountain Explorer
7 Day Yellowstone National Park Rocky Mountain Explorer walking/camping tour from Las Vegas. Fun for all ages.
7 Day Yellowstone National Park Rocky Mountain Explorer walking/camping tour from Las Vegas.

Spend quality time exploring and walking through  3 world famous national parks- Yellowstone, Grand Tetons and Bryce Canyon on our 7 day camping/walking tour from Las Vegas. Includes Salt Lake City, Snow Canyon and Provo Lake. Hikes and walks for all abilities.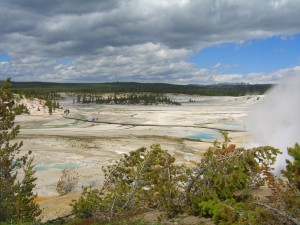 Highlight: Yellowstone National Park
Snap Shot:
Boiling hot pots and bubbling Geysers
National Parks Walks
Rocky Mountain Scenery
Pioneer History
Las Vegas nightlife
5 nights camping.1 night hotel.
Local Payments: $110- Covers all meals while camping and hotel in Salt Lake City (twin share).
Day 1  Las Vegas to Bryce Canyon National Park via Cedar Breaks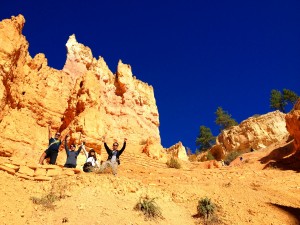 A beautiful drive today takes us to a 10,000 ft summit through Cedar Breaks for spectacular views of ancient lava flows and the Sevier River Valley below.  Arriving in Bryce Canyon National park in time for a delicious rim side picnic lunch you will have a full afternoon of hiking. Choose a relaxing stroll along the rim of the world famous Amphitheater or a hike deep into the depths of the canyon and get up close and personal with the hoodoos that make up this unique landscape. Take in a ranger program and learn the geology of this fascinating and thrilling park.
Spend the evening around a campfire and enjoy a soak in the outdoor hot tub under the stars after a tasty all American BBQ.
Day 2 Bryce Canyon to Salt Lake City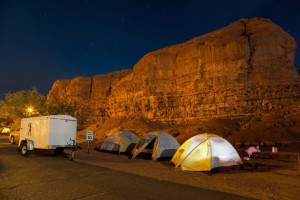 This morning takes us North to Salt Lake City Utah, home to the tabernacle choir, for an afternoon of exploring Mormon Pioneer history. Enjoy magnificent Salt Lake Mormon Temple and see the State Capital Building and founder Brigham Young's Territorial Governor's Mansion.
Day 3 Grand Tetons National Park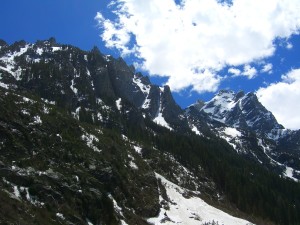 The Grand Tetons Mountain Range rises  above a scene rich with abundant wildlife, pristine lakes, and spectacular mountain peaks.  Take a walk to Inspiration Point or enjoy a scenic stroll around Jenny Lake while gazing up in awe at the surrounding landscape.  Have a picnic, spot and moose or even a grizzly bear and enjoy the serenity of this remarkable place.
Day 4-5 Yellowstone National Park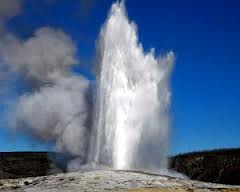 The crown jewel of the National Parks! The world's first national park. A mountain wilderness, home to grizzly bears, wolves, and herds of buffalo and elk. Visit Old Faithful and the Grand Prismatic Pool, Yellowstone Canyon, explore geysers throughout both the North and South loop. Spend two days exploring this huge and fascinating national park with your expert Guide. Don't forget your bathing suit for a soak in Mammoths natural hot springs!
Day 6 Yellowstone Grizzly Bear and Wolf Discovery Center and Rocky Mountains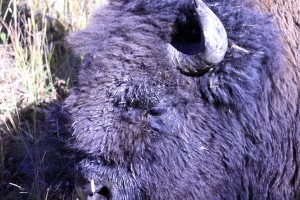 Get up close and personal with some wildlife with a fun and educational visit to the Yellowstone Grizzly Bear and Wolf Discovery Center this morning. This afternoon get ready for more spectacular Rocky Mountain scenery. With three major canyons, the Provo Lake Region offers phenomenal views of the Rockies, fantastic walks and is the perfect spot for some lake side fun and a last night BBQ blow out!
Day 7 Snow Canyon and Las Vegas
En route back to the bright lights of Sin City, explore the trails and dunes of beautiful Snow Canyon state park.  Surrounded by ancient lava flows and red Navajo sandstone this state park is a real treat. Your 7-day camping trip to some of America's most beloved national parks concludes in Las Vegas in late afternoon.
Combine this tour with our award winning Southwest Highlights for an epic 14 day USA adventure and receive and discount on the second tour!

Fabulous National Park Hikes
Entrance  to 3 major national parks- Yellowstone, Bryce and Grand Tetons as well as Snow Canyon state park
Incredible wildlife viewing opportunities- bears, wolves, moose and more…
All camping equipment- just bring your sleeping bag
Salt Lake City

NOT INCLUDED
Local payment of $110 per person –covers 5 breakfasts, 7 lunches, 5 evening meals plus one hotel night in Salt Lake City (twin share).
Grizzly Bear and Wolf Discovery Center- approx $12 per person
Gratuities

5 out of 5 stars (based on 13 reviews)