Hiking Chugach State Park
Hiking Chugach State Park private tour from Anchorage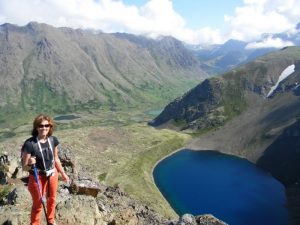 Departs Daily from $495 for a group of up to 5 guests

Itinerary for our hiking Chugach State Park private tour from Anchorage
Outdoor enthusiasts will love this Chugach State Park hiking adventure. As you hike, you'll have your own private naturalist guide to point out the unique flora and fauna of the area.
A short 20-minute drive from Downtown Anchorage lies Chugach State Park, the third-largest state park in the US whose more than 500,000 acres (202,343 hectares) offer some of Alaska's best hiking, wildlife viewing and scenery.
When you arrive at your hiking destination, hop out of your van and follow your naturalist guide on an outdoor adventure. The trail you'll tread is carefully selected by your guide depending on local weather conditions and your group's ability levels and interests, so you know you're getting the best hiking experience possible. Hikes range from 4–13 miles (6–21 km), with an elevation gain of 500–3,000 feet (152–914 meters).
Take in the beautiful mountain scenery marked by alpine forests, wildflower meadows and glistening streams. As you hike, your guide will teach you about the park's geology, ecology and natural and human histories, pointing out and identifying flora and fauna along the way.
Midway through your hike, stop to take a break, and enjoy your lunch amongst the breathtaking views. Once you've fueled up, it's back to the trail for more exploration. Keep your eyes peeled for wildlife, such as moose meandering in the meadows or eagles flying overhead. You may even come across a grizzly bear! After trekking through Chugach State Park, rest your feet on the drive back to your Anchorage hotel.
5 out of 5 stars (based on 13 reviews)