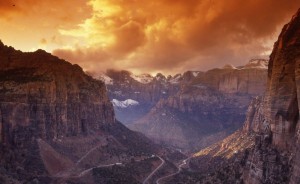 Las Vegas is well known for its glittering lights and casinos, few visitors are aware of the fact that there are thirteen National Parks within a short drive from the city, making it one of the most interesting geographic areas for touring in the United States.  As a starting point, Las Vegas provides a perfect hub, with hotels, lodging, restaurants and entertainment within a short walk of nearly every room.  The choices of entertainment that is outside of the man-made area of Las Vegas Boulevard is possibly the best kept secret in the city.  Below is a list of the fourteen National Parks within a short drive of Las Vegas, and perfect destinations for your next trip:
Sequoia and Kings Canyon: Both Sequoia National Park and Kings Canyon National Park are just across the border of Nevada in California.  The two are adjacent to one another, and feature the earth's largest trees, far larger than any other species in the world.
Yosemite: Yosemite National Park features one of the greatest concentrations of natural geological features, and presents a striking difference from Las Vegas.  The area is home to Yosemite Falls, the Toulumne and Merced Rivers, and Mariposa and Merced sequoia groves.
Joshua Tree: If you travel south from Las Vegas, you will eventually end up in Joshua Tree National Park.   This park is home to The Joshua Tree, an oversized yucca plant made famous by U2, as well as it's natural beauty.
Death Valley:  One of Bindlestiff Tours most popular getaways, Death Valley National Park is about 100 miles from Las Vegas, and features some of the most rugged and extreme landscapes on earth.  It holds the lowest point on the continent (282 feet below sea level) as well as the highest temperature ever recorded (132 degrees.)
Canyon de Chelly: Canyon de Chelly National Monument is a drive into Arizona from Las Vegas, and features Pueblo built houses constructed into the red sandstone walls of the canyon.  These were built hundreds of years ago, and are still standing today.
Petrified Forest: The Petrified Forest National Park is 93,532 acres of petrified wood and natural elements, located just over the border of Arizona from Las Vegas.
Grand Canyon: Another of the most popular tours that Bindlestiff Tours offers, the Grand Canyon National Park is east of Las Vegas in Arizona.  It holds one of the most awe-inspiring scenic views in the world, with it's great expanse as well as vistas.  It is a truly spectacular trip.
Great Basin: The Great Basin National Park is located near Las Vegas in Nevada.  It features the Lehman Caves, which are natural limestone formations that are a true wonder to behold.  Additionally, the Park features Lexington Arch, which is a limestone formation over six stories tall, and Wheeler Peak Glacier.
Arches: Arches National Park is a fantastic landscape of giant pinnacles and arches that is truly beautiful.
Canyonlands: Canyonlands National Park is a largely undeveloped area in Utah, across the border of Nevada.  The area includes rock formations, Puebloan ruins, desert flora and arches.
Capitol Reef: Capitol Reef is roughly 400 miles from Las Vegas, in Utah's slickrock country.  It's elevation ranges from 3,900-8,800 feet of red sandstone cliffs that are capped with white sandstone domes.
Bryce Canyon: Bryce Canyon National Park is a very popular tour offered by Bindlestiff Tours, featuring a 56 square mile area of multi-colored cliffs that were caused by erosion.  The towering rocks have taken on un-natural shapes due to wind and sand erosion over millions of years, and must be seen to be believed.
Zion: Located 150 miles from Las Vegas in Utah, Zion National Park features some of the most spectacular canyons and natural rock formations in the world.  Created by millions of years of erosion, water and frost, the area is a must see for any visitor to the Southwest.  It is also available through Bindlestiff Tours as a popular destination.
Monument Valley Navajo Tribal Park: Monument Valley is located near the Arizona-Utah state line, Monument Valley is a five square mile region of the Colorado Plateau, and is a part of the Navajo Nation Reservation. Monument Valley is characterized by its breathtaking cluster of vivid red sandstone buttes, some of which tower 1,000 feet above the valley floor.